Zayed Future Energy Prize Application & Deadline
Event Date: April 20, 2017
Event Location: United Arab Emirates
Applications are now being accepted for 10th Edition of the Zayed Future Energy Prize.  The U.S.-U.A.E. Business Council is pleased to partner once again with our partners in Abu Dhabi to raise awareness about this important opportunity.
The Zayed Future Energy Prize represents the vision of the Late Founding Father and President of the United Arab Emirates, Sheikh Zayed bin Sultan al Nahyan, who championed environmental stewardship. This annual award celebrates achievements that reflect impact, innovation, long-term vision, and leadership in renewable energy and sustainability.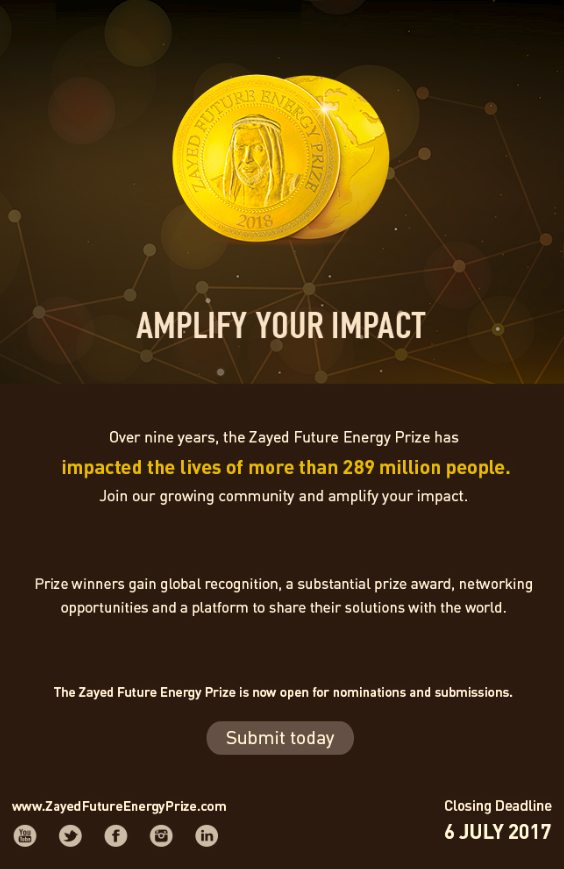 Winners of this edition of the Zayed Future Energy Prize will be recognized during Abu Dhabi Sustainability Week 2018, which will be held from 13-18 January 2018 at the Abu Dhabi National Exhibition Center. This annual global forum – which is hosted by Masdar, a Mubadala Company – brings businesses and nations together to address challenges and celebrate achievements in sustainable development and clean energy.
The Zayed Future Energy Prize awards 5 separate categories with a total Prize fund of $4 million.
Large Corporation Award – no monetary value
Small and Medium Enterprise (SME) Award – $1.5 million
Non-Profit Organization (NPO/NGO) Award – $1.5 million
Lifetime Achievement Award (For an individual) – $500,000
Global High Schools Awards – total value of $500,000 divided among 5 global High Schools in 5 different geographic regions (The Americas, Europe, Africa, Oceania, and Asia)
Candidates can apply for the SME, NPO/NGO, or Global High Schools category. Individuals can also nominate a candidate for the Large Corporation or Lifetime Achievement Award. Entries close on 6 July 2017.
To access more information or to fill out an application/nomination for this prize, please click here.
Back to Events