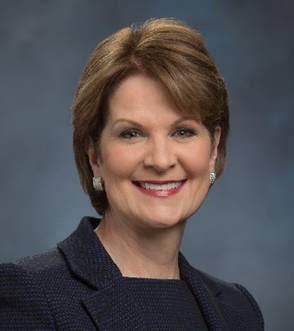 Marillyn Hewson
Chairman, President and C.E.O.
Lockheed Martin Corporation
Marillyn A. Hewson is Chairman, President and Chief Executive Officer of Lockheed Martin Corporation. She previously held a variety of increasingly responsible executive positions with the Corporation, including President and Chief Operating Officer and Executive Vice President of Lockheed Martin's Electronic Systems business area.
In her over 30 years with Lockheed Martin, Ms. Hewson has held several operational leadership positions including President of Lockheed Martin Systems Integration; Executive Vice President of Global Sustainment for Lockheed Martin Aeronautics; President and General Manager of Kelly Aviation Center, L.P., an affiliate of Lockheed Martin; and President of Lockheed Martin Logistics Services. She has also served in key corporate executive roles, including Senior Vice President of Corporate Shared Services; Vice President of Global Supply Chain Management; and Vice President of Corporate Internal Audit.
About