Dubai Department of Economic Development and a Delegation of Dubai Companies Discuss Business Opportunities With Seattle-Based Businesses
September 13, 2017
The Dubai Department of Economic Development (Dubai FDI) visited Seattle, Washington this week, 11-13 September, 2017, as part of a larger mission to provide information on Dubai's development strategies and economic and business policy initiatives as well as to highlight Dubai's connectivity to the broader Middle East, Africa, and South Asia. This is Dubai FDI's fourth visit to the U.S. in the last three years. His Excellency Abdulla Alsaboosi, Consul General of the U.A.E. in Los Angeles, and Danny Sebright, President of the U.S.-U.A.E. Business Council participated in the delegations visit.
As part of their meetings, the delegation was briefed about Washington's innovation and economic climate by the Washington Department of Commerce. This meeting also served as an introduction to the trip's activities including a private meeting with The Honorable Edward B. Murray, Mayor of Seattle, and executives from Seattle-based companies and organizations that represent a range of verticals including technology, transportation and logistics, education, and wholesale.
•             Amazon-Dubai FDI met with senior executives from Amazon and Amazon Web Services (AWS) including Michael Punke, VP, Global Public Policy at AWS, to discuss partnerships and Amazon's continued expansion into Dubai. Amazon Web Services has recently begun operations in Dubai and Amazon acquired Dubai-based Souq.com for $650 million.
•             Boeing-Dubai FDI toured the Boeing plant that produces the 737 MAX aircraft and discussed expanding business opportunities in Dubai with two senior Boeing executives. Emirates and Etihad are both major purchasers of Boeing aircraft, and Mubadala Investment Company subsidiary Strata continues to develop components for the 777 and 787 Dreamliner aircraft.
•             Costco-Dubai FDI discussed potential opportunities for Costco's expansion into Dubai and met with James Murphy, Executive VP and COO of International, as well as Donn Coonrod, Buyer International Export Sales, and Dwight Smith, Buyer International Export Logistics.
•             DigiPen Institute of Technology-Dubai FDI met with Claude Comair, Founder and President of Digipen, and toured Digipen's campus. Digipen focuses on Bachelor's and Master's degree programs in computer science, animation, video game development, game design, sound design, and computer engineering. Digipen has international campuses located in Singapore and Bilbao, Spain.
•             Port of Seattle-Dave McFadden, Managing Director of Economic Development Division, and Kazue Ishiwata, Senior Manager of Air Service Development at Seattle-Tacoma International Airport, highlighted the Port of Seattle's success in stimulating economic development in the region.
•             Life Sciences Washington-Dubai FDI met with Life Science Washington executives to learn more about Washington's life science industry as well as meet other industry partners.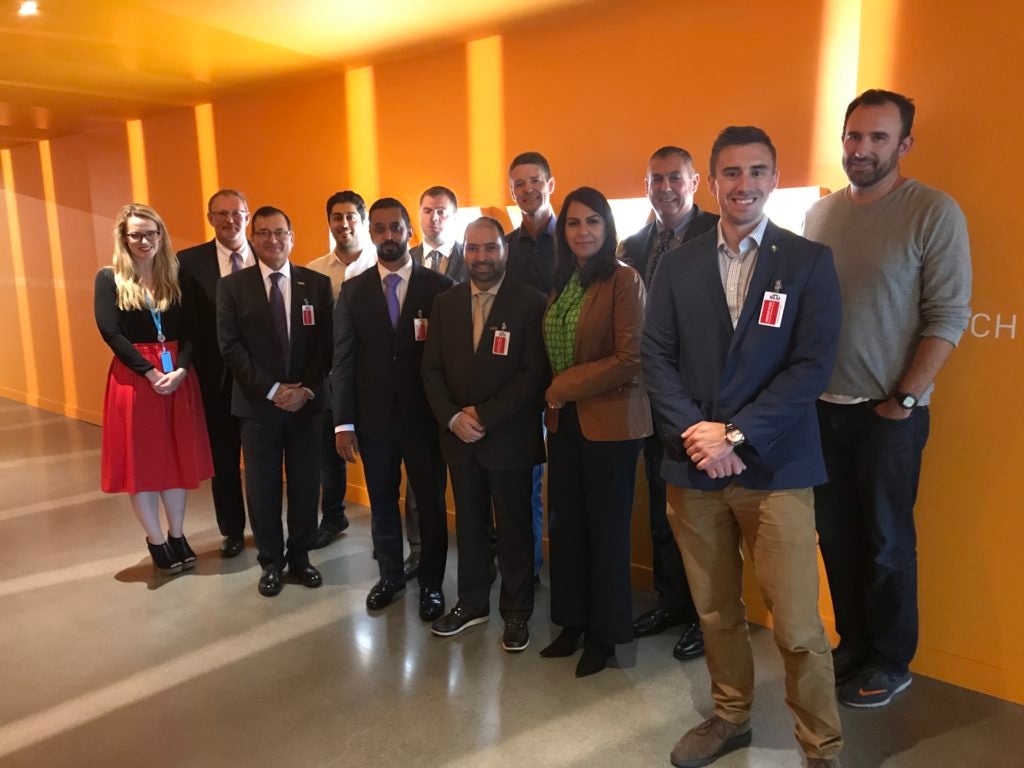 The Dubai FDI delegation and Danny Sebright, President of the U.S.-U.A.E. Business Council, meet Michael Punke, VP, Global Public Policy at Amazon Web Services, and other members of the Amazon team.
Commenting on these meetings, Ibrahim Al Ahli, Director of Investment Promotion Division at Dubai FDI, highlighted the successful leveraging of Dubai's connectivity by high-tech industry in exporting their expertise to a vast regional market. "We are looking at Dubai serving as the ideal hub for more such companies as well as creative entrepreneurs."
The delegation comprised a range of companies including: Dubai FDI, Dubai Exports, Department of Tourism and Commerce Marketing, Dubai South, Dubai Multi Commodities Centre, Jebel Ali Free Zone Authority, and Emirates Airline.
As part of their five-day mission in the U.S. before returning to Dubai, the Dubai FDI delegation, with the support of the U.S.-U.A.E. Business Council, will travel to Portland, Oregon, 13-15 September, 2017, in a bid attract U.S. investment to the Emirates.
Back to News