U.S.-U.A.E. Business Council Hosts Deputy Secretary of Commerce Bruce Andrews – November 14
Event Date: November 14, 2016
Event Location: Washington D.C.
The U.S.-U.A.E. Business Council is pleased to invite you to attend an exclusive (closed-door) luncheon with Deputy Secretary of Commerce Bruce H. Andrews on Monday, November 14th.
In his remarks, Deputy Secretary Andrews will highlight the importance of the U.S.-U.A.E. bilateral commercial relationship, will review the Department's key achievements with the U.A.E. since 2008 and its goals during the remainder of President Obama's term in office, and will discuss the key commercial and economic themes that the Department sees as driving their U.A.E.-work in 2017 and beyond.
Deputy Secretary Andrews will also discuss the Business Council's new publication "Doing Business in the United Arab Emirates" and the important tools it provides to U.S. companies looking to better understand and enter the U.A.E. market.
Please RSVP your attendance to Mr. Abad Allawi at aallawi@usuaebusiness.org or call +1 202 863 7288.

Bruce H. Andrews
Deputy Secretary of Commerce
U.S. Department of Commerce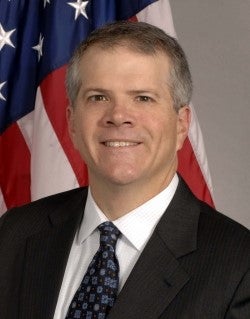 Bruce Andrews was confirmed as the Deputy Secretary of Commerce on July 24, 2014. Andrews was named Acting Deputy Secretary of Commerce by President Obama and Secretary Penny Pritzker on June 9, 2014. Prior to this, Andrews served as Chief of Staff to the Secretary at the U.S. Department of Commerce, a post which he began in October 2011.
Prior to joining Commerce, Andrews served as General Counsel for the U.S. Senate Committee on Commerce, Science and Transportation, where he served as the chief counsel for the Committee and was responsible for policy, legal and jurisdiction issues. Before joining the Committee staff, Andrews served as Vice President of Governmental Affairs for the Ford Motor Company, where he oversaw the company's federal and state government affairs. Prior to joining Ford, Andrews practiced law as an attorney in the Public Policy and Telecommunications Groups at Arnold & Porter. He was also a founding member of the firm Quinn Gillespie & Associates (QGA), where he worked with clients on a variety of issues related to transportation, technology, judiciary, telecommunications and financial services. Andrews began his career on Capitol Hill where he served as Legislative Director for Representative Tim Holden (D-PA), Legislative Assistant for Representative Gus Yatron (D-PA) and on the staff of  Senator Alan Cranston (D-CA).
Andrews, a Syracuse, New York native, is a graduate of the Georgetown University Law Center and Haverford College. He, his wife and children live in Washington, D.C.
Back to Events