U.S.-U.A.E. Business Council Hosts Luncheon and Policy Discussion with Senior Commercial Officer for the Gulf
July 13, 2018
The U.S.-U.A.E. Business Council hosted Thomas Bruns, the newly appointed Senior Commercial Officer (SCO) for the Gulf (stationed at the U.S. Embassy in Abu Dhabi), for a luncheon and policy discussion on Wednesday July 11th in Washington D.C. The luncheon provided public and private-sector stakeholders with an opportunity to engage in dialogue with Mr. Bruns about the latest successes and challenges within the U.S.-U.A.E. commercial relationship. The event featured a brief introduction by U.S.-U.A.E. Business Council President Danny Sebright, who congratulated Mr. Bruns on his appointment.
Following Mr. Sebright's introduction, Mr. Bruns briefly highlighted his past experiences, including his most recent role as Deputy SCO at the U.S. Embassy in Moscow. He also expressed his eagerness to work with U.S. companies to help expand American exports to the U.A.E., increase Emirati investment in the United States, and showcase the best of American ingenuity at Expo2020 Dubai.
Thomas Bruns, Regional Senior Commercial Officer at U.S. Department of Commerce with Danny Sebright, President of the U.S.-U.A.E. Business Council
Commenting on his appointment Mr. Bruns said, "Thanks to the U.S.-U.A.E. Business Council for providing a platform for me to engage the private sector and hear more about the business environment in the U.A.E. and the region. Our mission is to promote U.S. exports, advocate for U.S. interests in the region, and spur inward investment. I look forward to working with U.S. companies to support our bilateral commercial relationship."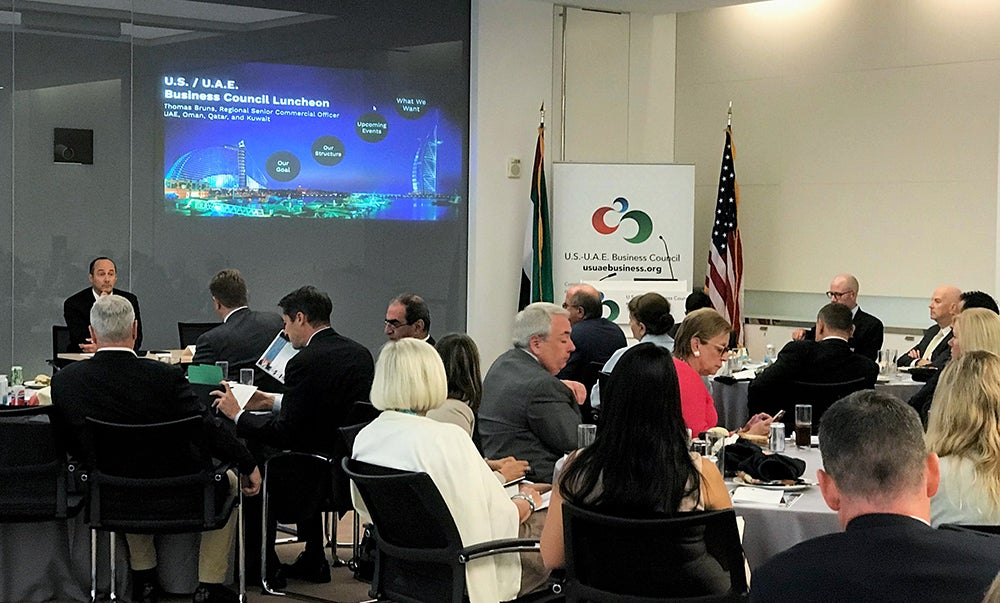 Mr. Bruns engages the business community regarding bilateral commercial ties between the U.S. and U.A.E.
Following the remarks, Mr. Sebright opened the floor to a lively discussion, during which time participants engaged Mr. Bruns on the many opportunities and challenges facing U.S. businesses in the U.A.E. including public-private partnerships in the healthcare sector, exemptions from VAT, and the U.A.E.'s prioritization of artificial intelligence technologies.
Back to News