Dubai FDI Concludes Mission to Ohio
March 30, 2018
The Dubai Investment Development Agency (Dubai FDI), a government body that seeks to attract foreign investment into the Emirate of Dubai, completed a week-long mission to Ohio, U.S. from 25th-30th of March in partnership the U.S.-U.A.E. Business Council.
The high-level delegation, which included senior executives from Dubai Exports, Emirates Airline, Emirates SkyCargo, Dubai South, and Dubai Multi Commodities Centre (DMCC) was part of Dubai's longstanding engagement with major U.S. cities to bolster trade ties and investment.
During this mission, the delegates met with state and local officials, industry associations, and businesses to explore potential partnerships in Columbus and Cincinnati, which represent the two largest metropolitan areas in Ohio.
Commenting on the importance of this mission, Fahad Al Gergawi, CEO of Dubai FDI, said, "Columbus and Cincinnati join a growing list of U.S. cities Dubai FDI has covered as part of its Global Mission Program to establish partnerships with investors and enablers in the private sector and government."
"U.S.-U.A.E. bilateral trade totaled nearly 90 billion Dirhams ($24.5 billion USD) in 2017 and Ohio was the 7th largest U.S. exporter to the U.A.E. in 2016. Dubai has a valuable opportunity now to build on the existing trade partnership as economic diversification has accelerated and the Dubai Industrial Strategy 2030 gathers momentum towards transforming the Emirate into an international hub for knowledge-based, innovation-driven, and sustainable industrial activities."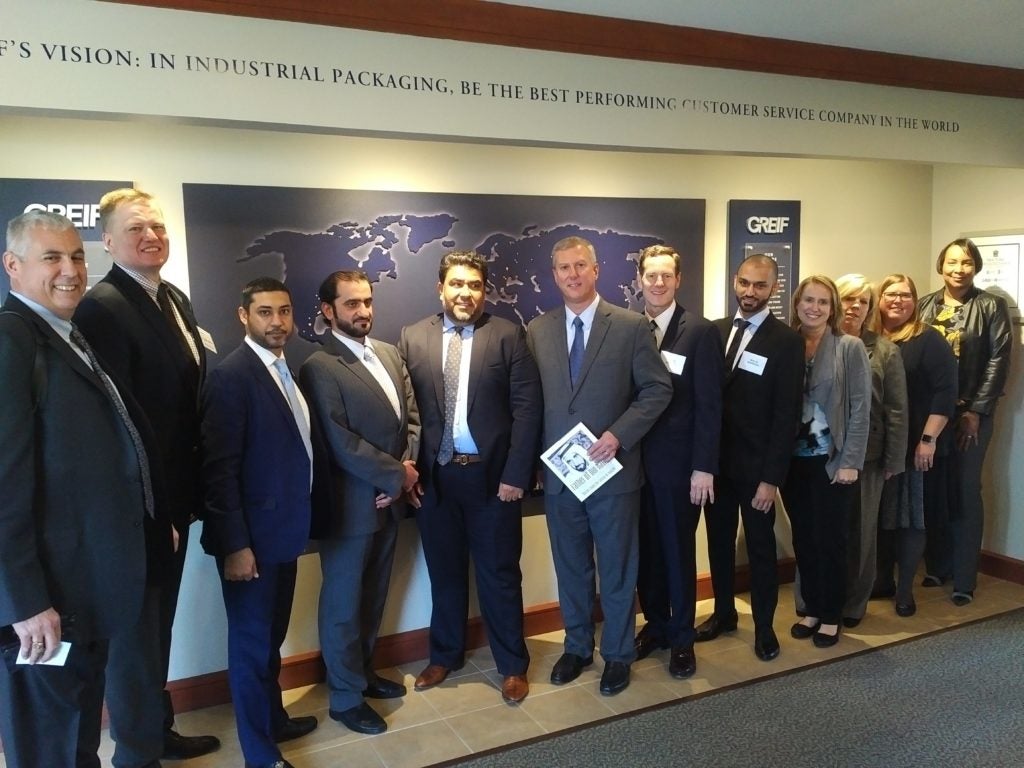 The Dubai FDI delegation and the U.S.-U.A.E. Business Council meet senior representatives from Greif Inc.
In Columbus, the delegation was featured in a Dubai FDI Breakfast Seminar, which was co-hosted by Columbus 2020 and the U.S.-U.A.E. Business Council. This event provided public and private-sector stakeholders the opportunity to hear from the delegation about the advantages to doing business in Dubai, which provides a platform for U.S. companies to expand their reach throughout the Middle East, Africa, and South Asia region. The seminar emphasized Dubai's ease of doing business and state-of-the-art logistics and transportation infrastructure.
Deborah Scherer, Managing Director for Global Trade and Investment at Columbus 2020, accompanied the delegation in Columbus and spoke of the eagerness of the local business community to build ties with Dubai. She also thanked Dubai FDI and the U.S.-U.A.E. Business Council for their partnership and for being  unique platforms through which organizations in the U.A.E. can share their story. "It's important to partner with organizations like Dubai FDI and the U.S.-U.A.E. Business Council to help U.S. companies understand the international business opportunities that exist to help them grow."
Delegates met with Columbus-based businesses including:
Greif Inc. – A producer and provider of industrial packaging products and services worldwide
Worthington Industries Inc. – A metals manufacturing company focusing on value-added steel processing and manufactured metal products
Abrasive Technology – A provider of major bonding technologies
Sutphen Corporation – An emergency services vehicle manufacturer and marketer
The Ohio State University Wexner Medical Center – A multidisciplinary academic medical center, which was recognized as a national leader in seven specialties
The Ohio State University James Cancer Clinic – A transformational facility that integrates scientific research, education, and innovative patient care
DSW Inc.– A branded footwear and accessories retailer in the United States
E-Cycle LLC – A recycler of wireless devices and mobile phones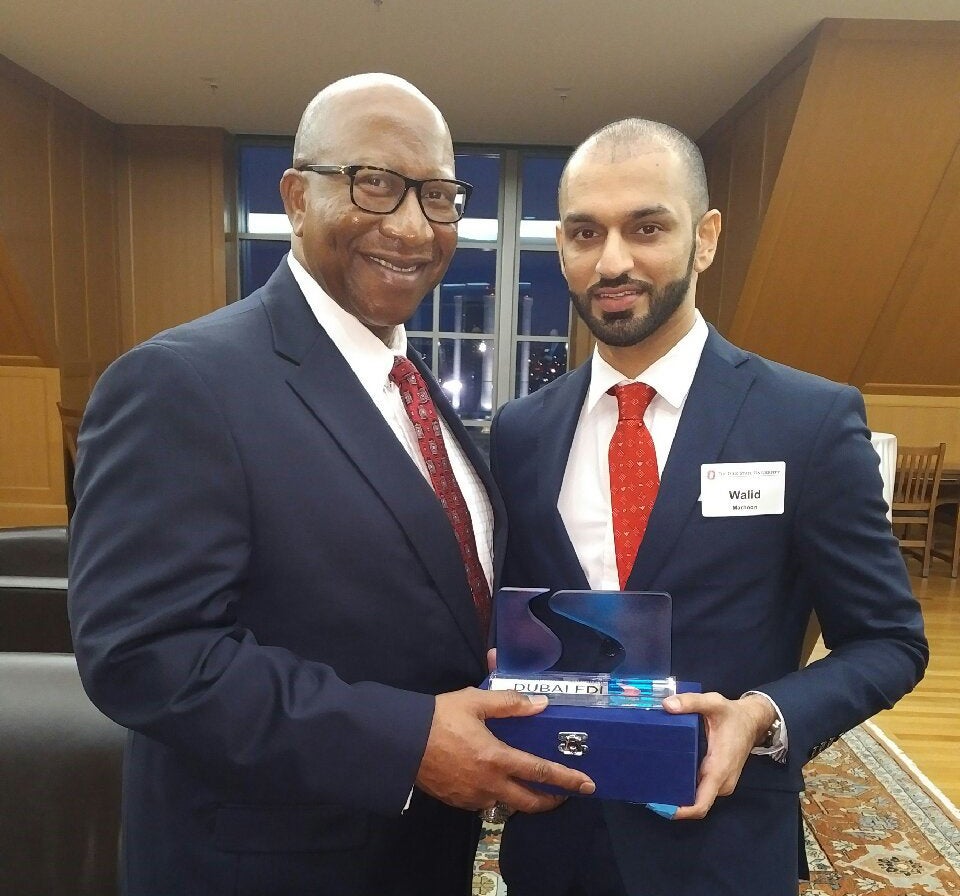 Alex Shumate, Managing Partner at Squire Patton Boggs LLP and Member of the Board of Trustees of The Ohio State University, exchanges gifts with Walid Marhoon, Investment Promotion Manager at Dubai FDI
After a highly successful trip to Columbus, the delegation traveled to Cincinnati to meet local business leaders during a second Dubai FDI Breakfast Seminar in partnership with Frost Brown Todd LLC. Stakeholders were interested in learning more about Dubai's offerings in a range of verticals including agriculture and fast-moving consumer goods.
Aaron M. Bernay, Attorney at Law at Frost Brown Todd LLC, stressed the importance of Dubai FDI's visit to Cincinnati. "This is the first time that we have hosted an official trade delegation from the Middle East in Cincinnati. The timing is no coincidence, as Ohio exported over $2 billion to the U.A.E. between 2015 and 2017 with a significant portion from the Cincinnati region."
Danny Sebright, President of the U.S.-U.A.E. Business Council, also noted, "The Dubai FDI mission will significantly raise Dubai's profile in American markets as a leading innovation and logistics hub for U.S. businesses to export their goods and services. Dubai FDI is developing mutually beneficial public and private-sector partnerships throughout the U.S. including in Ohio, where exports of U.S. products to the U.A.E. already support hundreds of thousands of American jobs."
The delegation continued B2B sessions with prominent Cincinnati-based companies including:
Cincinnati Children's Hospital Medical Center – A pediatric hospital that ranked third in the U.S. News Best Children's Hospitals rankings for 2017
Winegardner and Hammons, Inc. – A full-service hotel management and development company
Wittrock Healthcare – A medical headwall and healthcare construction company that provides total room solutions for patients and caregivers
The Proctor & Gamble Company – A provider of branded consumer packaged goods to consumers globally
Jedson Engineering – A provider of engineering services including designing, execution planning, construction support, vendor integration, modularization, and commissioning services
Cincinnati/Northern Kentucky International Airport – A public international airport located in Hebron, Kentucky, that serves the Greater Cincinnati metropolitan area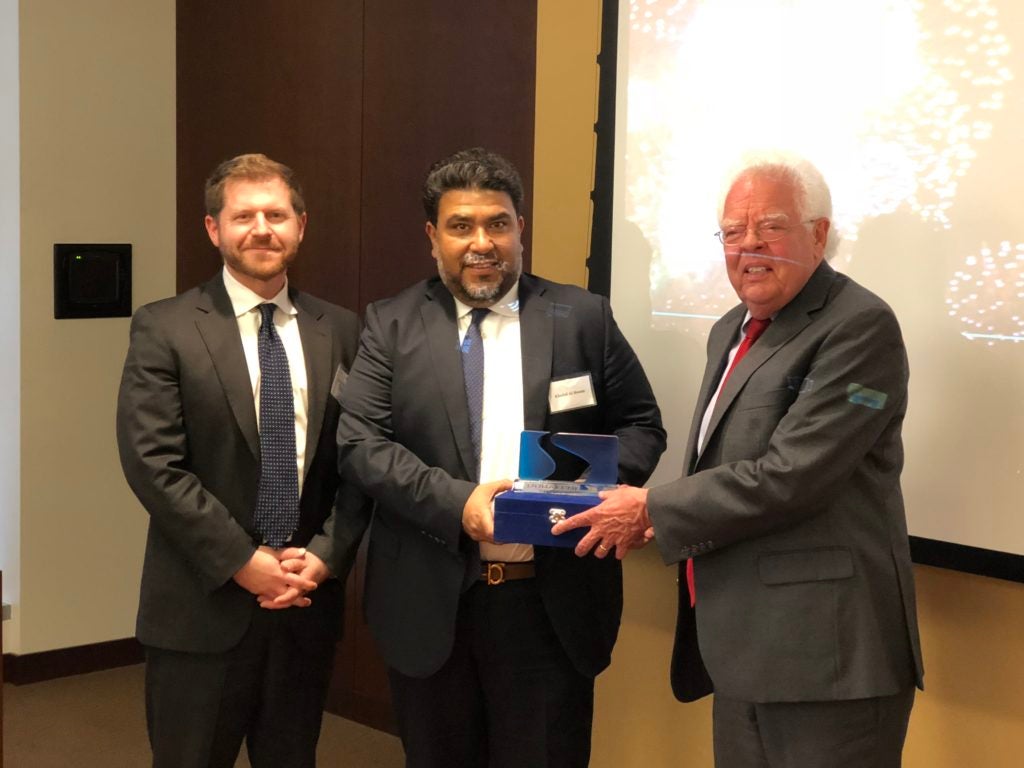 Khalid Al Boom, Deputy CEO of Dubai FDI, exchanges gifts with David Mann, Cincinnati City Council Member and Aaron Bernay, Attorney at Law at Frost Todd Brown LLC
At the conclusion of this trip, Ahmed Bin Sulayem, Executive Chairman of DMCC, commented on the importance of such missions. He said, "We will continue to support Dubai FDI's trade missions to the U.S. as we seek to further strengthen bilateral relations to ultimately boost trade along the U.S.–U.A.E. corridor."
According to the International Trade Administration, total trade between the state of Ohio and the U.A.E. in 2017 surpassed $608.5 million. Some of Ohio's largest exports to the U.A.E. in 2017 included transportation equipment, chemicals, machinery, fabricated metal products, and apparel manufacturing products.
Back to News