The Honorable Bill Peduto, the Mayor of Pittsburgh, and His Excellency Abdalla Shaheen, Consul General of the United Arab Emirates in New York​, highlighted the importance of ​flourishing Pittsburgh-U.A.E. ties during a virtual trade mission to the U.A.E. led by the American Middle East Institute (AMEI) in Pittsburgh ​and supported by the Business Council. The webinars highlighted opportunities for collaboration between Pittsburgh and the U.A.E. in technology, particularly in advanced manufacturing, with Mayor Peduto stating, "when we look to strategic partners throughout the world, we look to the U.A.E."
This virtual event, which took place on July 15th 2020, included a general overview session, which provided dozens of Pittsburgh-area companies with guidance on doing business in the U.A.E. This opening session was followed by two sector-specific breakout sessions focused on ​those areas where both Pittsburgh and the U.A.E. are marking their mark: healthcare and advanced manufacturing.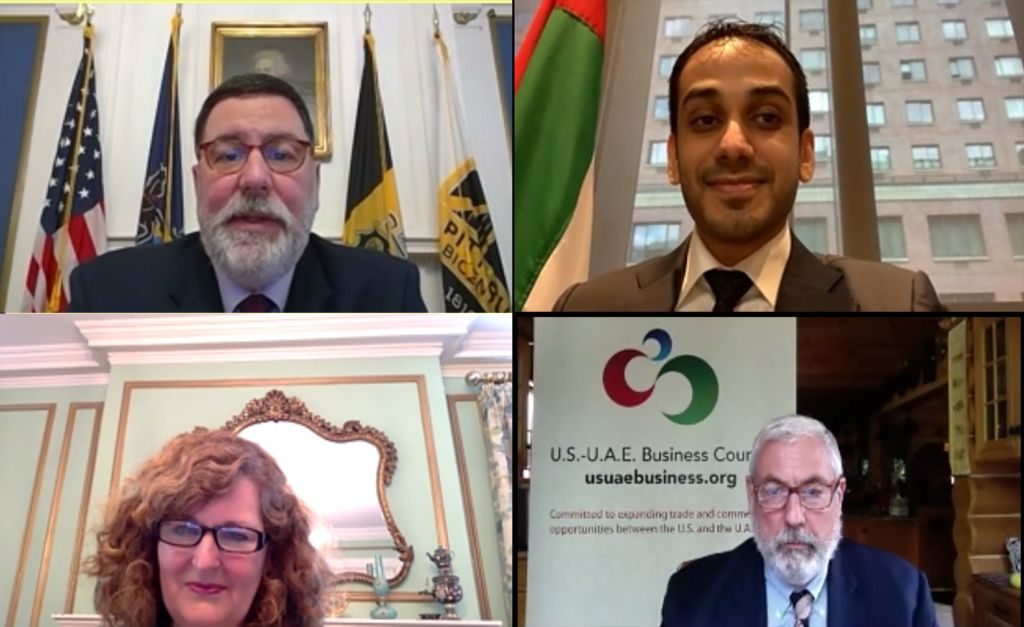 Clockwise from Top Left: Mayor Bill Peduto, Mayor of Pittsburgh; H.E. Abdalla Shaheen, U.A.E. Consul General in New York; Ms. Simin Curtis, President, CEO, and Founder of AMEI; and Mr. Danny Sebright, President, U.S.-U.A.E. Business Council
Ms. Simin Curtis, President, Chief Executive Officer, and Founder of AMEI began the virtual mission by emphasizing Pittsburgh's growing international presence and highlight​ing the city's bid to host ​the 2021 version of the Global Manufacturing and Industrialization Summit, which is a joint initiative between the United Nations and the U.A.E. focused on the future of manufacturing. Ms. Curtis also referenced AMEI's successful delegation to the U.A.E. in 2018, which included Mayor Peduto​, and AMEI's partnership with the Business Council in hosting a delegation of dignitaries from the Emirate of Sharjah in September 2019.
Delegates also heard remarks from His Excellency Abdalla Shaheen, Consul General for the United Arab Emirates in New York, who facilitates U.A.E. engagement with 16 states across the eastern seaboard, including the Commonwealth of Pennsylvania. ​His Excellency lauded the close Pennsylvania – U.A.E. bilateral relationship, pointing out that this robust trade relationship supports over 2,200 Pennsylvania jobs across a wide range of sectors, ​including healthcare, manufacturing, education, and real estate. He also noted that U.A.E. sovereign wealth fund Mubadala Investment Company owns Nova Chemicals, which directly employs 450 people in the Pittsburgh area.
U.S.-U.A.E. Business Council President Mr. Danny Sebright reiterated the strength of the bilateral commercial relationship while noting the U.S.'s $20 million trade surplus with the U.A.E. He also provided a short briefing on Doing Business in the U.A.E. based on the Business Council's third edition of its how-to guide found here.
Following formal remarks, panelists, including Ms. Curtis, Consul General Shaheen, and Mr. Sebright fielded audience questions on how best to cultivate business relationships in the U.A.E., how to avail of available resources, and the ways in which the U.A.E. has responded to the coronavirus pandemic.
The opening session was followed by two separate breakout sessions. The first, covering healthcare opportunities in the U.A.E., highlighted the country's focus on providing world-class healthcare and its eagerness to collaborate with U.S. hospitals and companies. The second session, featuring opening remarks by Mayor Peduto, outlined ways for Pittsburgh companies to get involved in the U.A.E.'s growing advanced manufacturing sector. Both presentations provided insights on key players in each sector and ways to engage moving forward.
Pittsburgh and the Commonwealth of Pennsylvania share a strong relationship with the United Arab Emirates. In 2019 alone, Pennsylvania exported $223.4 million in goods and services to the U.A.E.