The U.A.E.'s growing ties to China will have far-reaching consequences for U.S. companies operating in the region, think tank experts said during a Business Council webinar on 5 October 2020. Still, they cautioned against viewing U.A.E. business partnerships with China as a substitute for the U.A.E.'s robust commercial, political, and security relations with the U.S. A video of the event can be ​found here.
In conjunction with the event, the Business Council released a new paper on the U.A.E.-China relationship that is titled "New Silk Roads: The U.A.E.'s Careful Balance of its Business, Trade, and Investment Relationship with China." The paper​, which was authored by the prominent scholar Afshin Molavi, can be found here.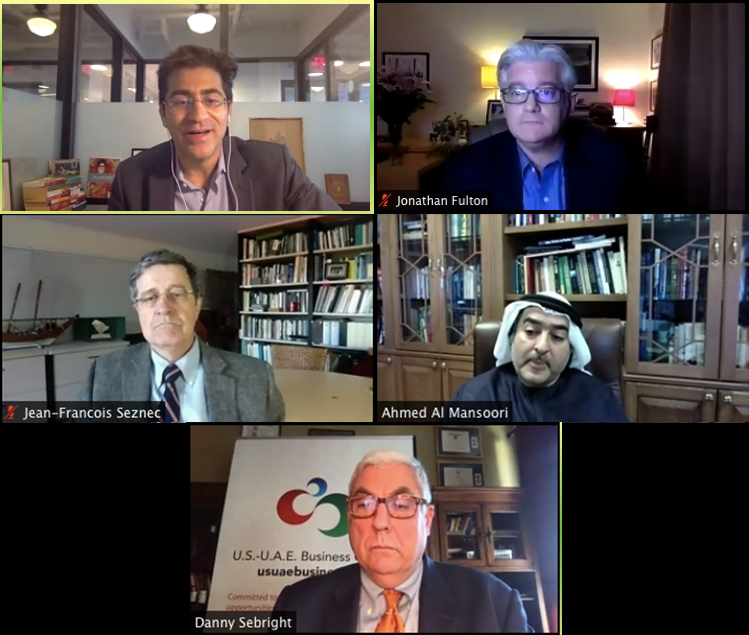 Former U.A.E. Federal National Council member and prominent scholar, Mr. Ahmed Al Mansoori kicked off the conversation by providing insight into the forces behind U.A.E.-China cooperation. Mr. Al Mansoori explained that the U.A.E.'s strong infrastructure, advanced technology, and hassle-free regulations, and culture of tolerance have attracted Chinese businesses to the country. He said, "Our relationship with China, has been primarily economic."  ​In contrast, he noted the U.A.E.'s relationship with the United States has become "institutionalized" in the political and security realms as well as the economic realm.
Zayed University Professor and Atlantic Council Senior Fellow Mr. Jonathan Fulton added that China aims  chiefly to benefit through trade and investment relations with the U.A.E.. He further noted that China has intentionally left any mention of security cooperation out of its Belt and Road Initiative white papers. Still, he said that technological cooperation, particularly Huawei's role in the region, has become sensitive.
Mr. Molavi then elaborated on on "the commercial inevitability" of China's relations with the U.A.E. given China's evolution into a world manufacturing hub and demand engine of the world's economy and the U.A.E.'s simultaneous rise into an economic powerhouse. Still, he said, there is no sign that the U.A.E. wants to replace its security ties with the U.S. and no sign that China intends to take on this role and he underscored comments by other speakers that there is no evidence so far that China wants to play a security role in the broader region..
Discussion turned next to the energy sector, where the U.A.E. has diversified its partnerships to reflect China's growing role as a destination for U.A.E. oil and LNG. Mr. Jean-Francois Seznec, Professor at John's Hopkins SAIS and Senior Fellow at the Atlantic Council explained that at its peak, the U.A.E. sold 700,000 barrels of oil to China. Moreover, he explained that China has also made sizable investments in the U.A.E.'s renewables and solar energy sectors​. On this point, Mr. Seznec added ​that this was to be expected given, "China has the largest supply of solar panels." He stated that in this area​ of renewables, Chinese companies may have a distinct advantage over U.S. companies, however that U.S. companies could compete by providing high-tech solutions ​in areas such as green hydrogen and green ammonia. He also underscored views by other panelists that these and other energy-related verticals were important areas for new cooperation between Israel, the U.A.E. and the U.S. as part of the historic Abraham Accords.
Panelists then engaged in a discussion of more recent developments, including the Abraham Accords, ​U.A.E.-Chinese cooperation regarding Covid-19, and recent developments in the China-Iran relationship. ​Panelists downplayed the significance of the latter, noting China's interests in Arabian Gulf countries far eclipsed its interests in Iran.
The webinar concluded with a discussion on the extension of China-U.A.E. relations into the cultural and social realms. Indeed, Chinese and Emirati officials have conducted several high-level visits, and the U.A.E. has become home to a growing population of Chinese citizens. Mr. Al Mansoori described these growing sociocultural ties, stating that "the U.A.E. has always been open to bridging different cultures."
This webinar, part of the Business Council's Back to Business Webinar series, was attended by over 200 U.S. and U.A.E. business executives and government officials.
For more information about this series and an exciting slate of upcoming events, please contact the U.S.-U.A.E. Business Council's head of communications Mary Zuccarello at mzuccarello@usuaebusiness.org.