On November 27 and 28, 2018, Pavilion USA 2020, in partnership with the U.S.-U.A.E. Business Council, AmCham Abu Dhabi, and AmCham Dubai, launched a two-day ceremony in Dubai and Abu Dhabi to unveil the initial plans for the U.S. Pavilion building and its experiences, which will showcase the future of mobility under the theme: "What Moves You? The Spirit of Mobility".
Pavilion USA 2020, the partnership responsible for the United States' National Pavilion, has been making important headway in the design and planning of the landmark building destined to represent more than 325 million Americans.
On November 27, Consul General Philip Frayne, U.S. Consulate General in Dubai, hosted an evening reception at his residence that included prominent members of the Dubai-based U.S. business community, U.S. government officials,  Expo 2020 Dubai officials, and  Pavilion USA 2020's official partners, Virgin Hyperloop One and PepsiCo.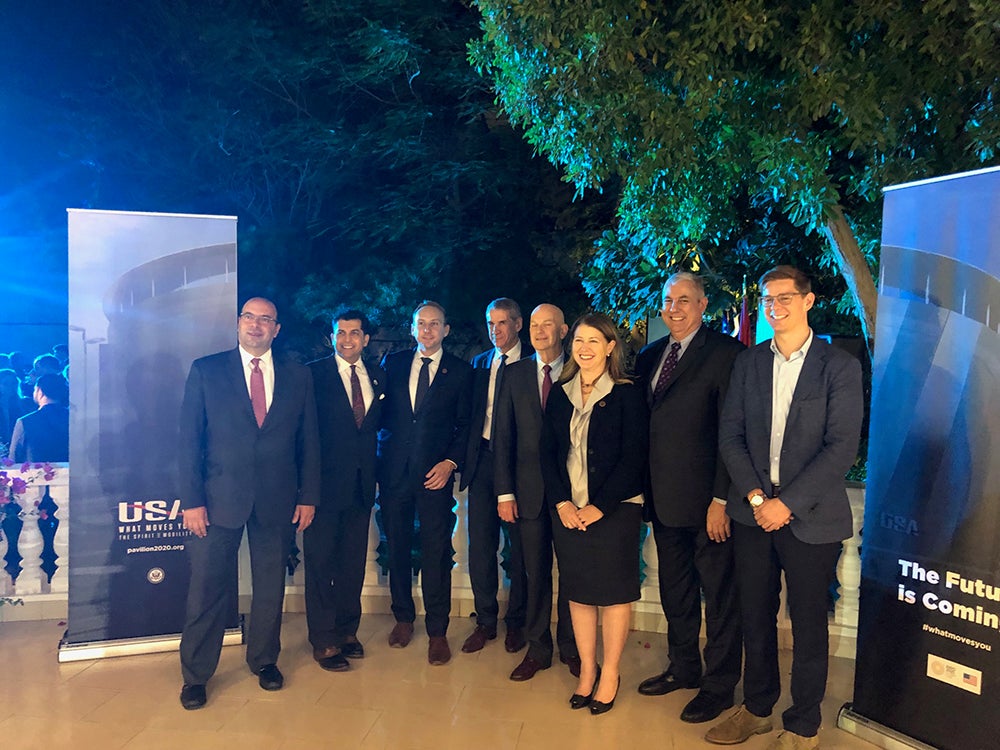 In his welcome remarks, CG Frayne said, "We are excited by Pavilion USA 2020's release of the first designs of the U.S. pavilion and the announcement of their first sponsors. This is an important step in the United States' journey to Expo 2020 Dubai. We encourage other companies, cultural and philanthropic organizations, and citizens to learn more about opportunities to get involved."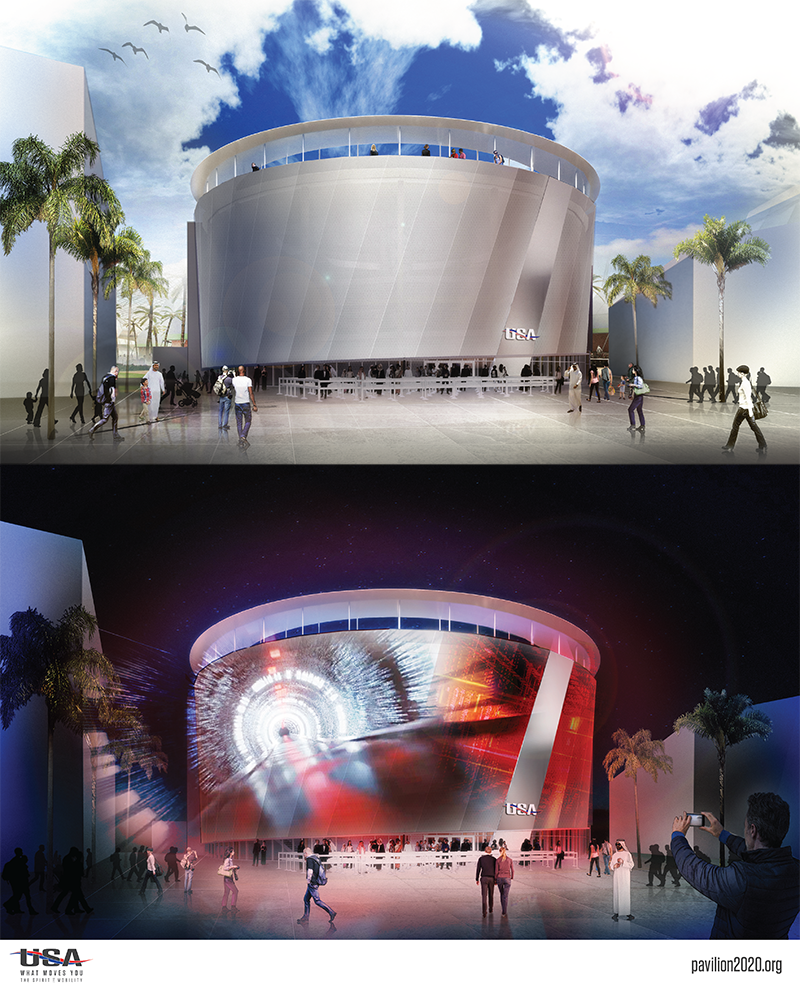 Before unveiling the Pavilion USA 2020 exterior building design, The Honorable Frederick M. Bush, Chairman and Gregory D. Houston, CEO of Pavilion USA 2020, said, "This Pavilion provides a unique platform for our nation to come together to showcase the very best of our cultural and commercial achievements.  We are committed to the prudent and responsible management of a pavilion that engages the world with the incredible diversity and innovations that define the United States of America."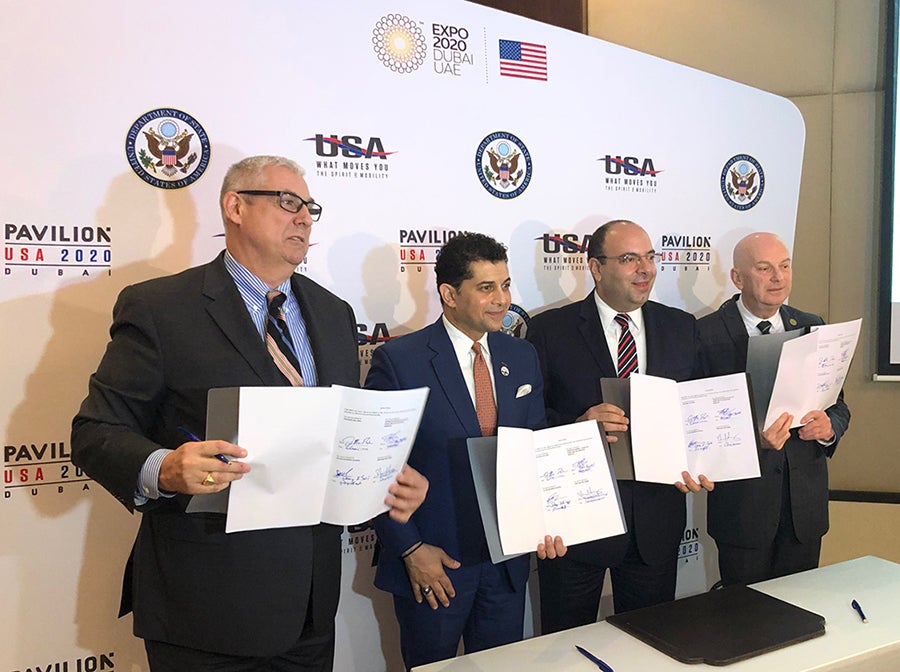 Pavilion USA 2020 kicked off the second day of the event with a signing ceremony of a Memorandum of Understanding (MoU), the first-of-its kind agreement between Pavilion USA 2020, U.S.-U.A.E. Business Council, AmCham Abu Dhabi, and AmCham Dubai to promote the shared goal of engaging the private sector in a history-making U.S. pavilion.
In a joint statement, Danny Sebright, President of the U.S.-U.A.E. Business Council, Sharief Fahmy, Chairman of the AmCham Abu Dhabi, and Sammy Bousaba, incoming President, AmCham Dubai said: "Today's MoU serves as the platform from which our members can come together in support of the U.S. pavilion at Expo 2020 Dubai.  We are pleased to work closely to ensure the bilateral business communities between our two nations are fully engaged in this important effort. As a commercial priority of the U.S. and the U.A.E., there are few opportunities more deserving of our full support."
Pavilion USA 2020 leadership along with Krista Pilot, Vice President of Corporate Affairs for Asia, Middle East & North Africa from PepsiCo also announced that the 120-year-old New York-based company, known globally for its food and beverage products, will be a lead sponsor and Official Beverage partner of Pavilion USA 2020.
Pavilion USA 2020 also announced its official partnership with California-based Virgin Hyperloop One, which will premiere its Hyperloop ride experience at the U.S. pavilion.
Concluding the launch event, Steven Bondy, U.S. Chargé d'affaires at the U.S. Embassy in Abu Dhabi hosted a luncheon for the Abu Dhabi-based U.S. business community. The luncheon provided an opportunity for senior executives to engage with Pavilion USA 2020's leadership and official partners.
About Pavilion USA 2020
Pavilion USA 2020 is a consortium of leading U.S. architecture, experiential, communications, public diplomacy, academic, financial management, and fundraising firms who have come together to fund, design, build, operate, and decommission the U.S. pavilion at Expo 2020 Dubai. It was selected by the U.S. Department of State to implement the U.S. pavilion at Expo 2020 Dubai following a competitive nation-wide request for proposal process.  This multi-year public-private partnership will bring the U.S. pavilion to life, a huge undertaking that will require the collaboration of its creative, commercial, and cultural partners from across all the United States and its territories.
For further details about Pavilion USA 2020, visit www.pavilion2020.org.  For more information about the U.S. participation in World's Fairs, including Expo 2020 Dubai, visit www.state.gov/r/expo/. For information on Expo 2020 Dubai visit expo2020dubai.com.