Public-Private Discussion of Kickstarting Post-Covid Economies Centers on Healthcare, Tech, and Food Security
June 17, 2020
U.S. and U.A.E. business leaders shared how the two countries might work together to kickstart their economies during a virtual business roundtable with U.A.E. Assistant Minister for Economic and Trade Affairs His Excellency Abdulnasser Alshaali, U.S. Assistant Secretary of State Manisha Singh, and the other U.S. and U.A.E. government officials taking part in this year's U.S.-U.A.E. Economic Policy Dialogue (EPD).
Since 2010, the U.S. and U.A.E. have convened the EPD to discuss both economic opportunities and challenges facing the bilateral relationship. Ahead of this important annual intergovernmental dialogue, the U.S.-U.A.E. Business Council has historically held an event for the business community to share its perspectives on issues with the two governmental delegations.
The theme of this year's virtual event was how to reinvigorate the U.S. and U.A.E. economies in the wake of the Covid-19 pandemic through greater bilateral partnership. Conversation focused in particular on opportunities in healthcare, technology, and food security and the types of policies that could foster and underpin greater cooperation in these critical areas.


U.A.E. Assistant Minister for Economic and Trade Affairs His Excellency Abdulnasser Alshaali and U.S. Assistant Secretary of State Manisha Singh
After brief introductions by Business Council President Danny Sebright, His Excellency Alshaali and Assistant Secretary Singh provided an overview of key topics of discussion during tomorrow's EPD and what the two delegations hope to achieve. The two delegation leaders also expressed their eagerness to hear the perspectives of the business community on these matters.
U.A.E. Ambassador to the United States Yousef Al Otaiba and his U.S. counterpart, Ambassador John Rakolta, Jr., subsequently offered their greetings to the business community, while noting that they and their teams both stand ready to further bilateral economic cooperation and help individual companies achieve their business objectives.
His Excellency Waleed Al Muhairi, Deputy Group CEO and CEO for Alternative Investments & Infrastructure at Mubadala Investment Company, then shared a U.A.E. perspective on how the U.S. and U.A.E. might cooperate to kickstart their economies in the wake of the Covid-19 crisis. His Excellency, who also serves as co-Chairman of the Board of the U.S.-U.A.E. Business Council, noted how the Covid-19 crisis has led Mubadala to redouble its commitment to investing in healthcare, creating significant opportunities for partnership with innovative U.S. companies.
Providing a U.S. perspective on this matter were three titans of the U.S. business community in the U.A.E.: Norm Gilsdorf, President for High Growth Regions at Honeywell; Dr. Dalya Al Muthanna, President and CEO for GE Gulf; and Sammy Kayello, Chairman and CEO of Morgan Stanley Middle East and North Africa. Notably, during his remarks, Mr. Gilsdorf outlined how Honeywell has partnered with prominent Emirati company Strata to produce 30 million N95 masks per year in the U.A.E.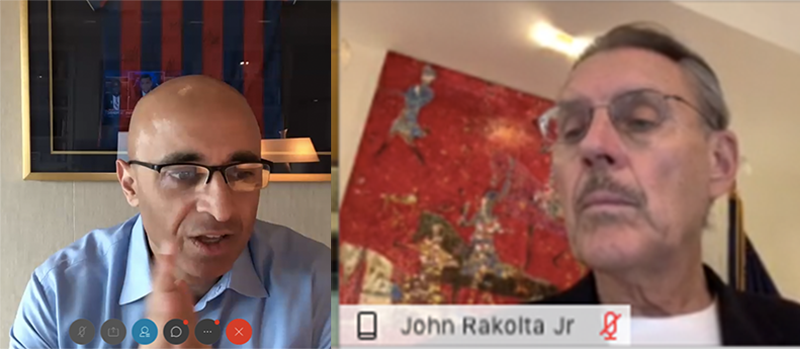 U.A.E. Ambassador to the United States Yousef Al Otaiba and U.S. Ambassador to the U.A.E. John Rakolta, Jr.
Dr. Rakesh Suri, CEO of Cleveland Clinic Abu Dhabi, then reviewed some lessons learned from the Covid-19 crisis while chartering a path forward for greater bilateral cooperation in healthcare. Paula Dowdy, SVP & General Manager for EMEA Commercial Operations at Illumina, and Karim Abd Elhay, General Manager for Saudi Arabia and Egypt at Cerner, elaborated on Dr. Suri's remarks, drawing in the key areas of electronic medical records, telehealth, and laboratory testing.
From there, Selim Edde, Google's Director for Government Affairs and Public Policy for MENA, and Tara Fischbach, Public Policy Manager for the Levant and GCC at Facebook, spoke about those policies underpinning greater bilateral cooperation in the digital space and VoIP policies. Mohamed Fawzy, Cluster Lead for the Gulf at Pfizer, subsequently shared best practices for enhancing cooperation in innovative pharmaceuticals and the life sciences.
Turning to a discussion on the ongoing U.S. tariffs on Emirati exports of steel and aluminum. Walid Al Attar, Chief Commercial Officer at Emirates Global Aluminium, reviewed the impact of these ongoing tariffs not just on EGA and its Emirati compatriots but, importantly, on U.S. industry and consumers as well. He also mentioned the importance of retaining talent in the region.
A conversation on the growing vertical of food security concluded the session. Aamer Sheikh, Senior Vice President and General Manager for MENA and Pakistan at PepsiCo, shared some lessons learned regarding food distribution and security in the U.A.E. and the region following Covid-19. Dr. Deane Falcone, Interim CEO and Chief Science Officer at Crop One, and Chris DiMarco, Business Development Lead at AeroFarms, subsequently offered their perspectives on new areas of cooperation in food security drawing on their experiences as vanguards in this field.
AeroFarms recently announced it would build the world's largest R&D Indoor Vertical Farm in Abu Dhabi as part of a $100 million investment by Abu Dhabi Investment Office (ADIO). Meanwhile, Crop One and Emirates Flight Catering have launched a $40 million joint venture to build the world's largest vertical farming facility in Dubai. Both Emirates and Crop One participated in the recent U.S.-U.A.E. Business Council food security mission to the U.A.E.
The virtual roundtable was attended by over 250 senior executives from leading American and Emirati Business Council members companies as well as by U.S. and U.A.E. government officials.
For more information about an exciting slate of upcoming Business Council events, please contact the U.S.-U.A.E. Business Council's head of communications Mary Zuccarello at mzuccarello@usuaebusiness.org.
Back to News